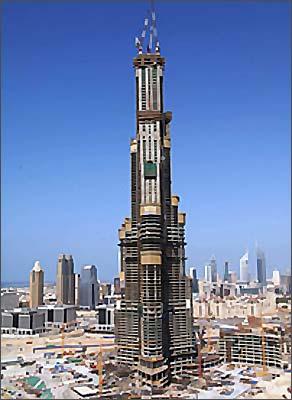 Burj Dubai is a skyscraper in the true sense of the word. It towers 130 floors (or 468.1 meters) above Dubai, but the construction of the building is yet to be completed.
Reports claim that the Dubai wonder is already the second tallest building in the world, 'as measured by structural height (not including antennas).'
When completed in 2008, it will be the world's tallest building. Some reports, however, claim that at the speed at which is being built, it might become the world's tallest building by September-October 2007.
The building is finally likely to have more than 160 floors. The Burj Dubai web site, however, indicates that the building could have alomost 190 floors.
Skidmore, Owings & Merrill LLP of Chicago is the lead architect, structural engineer and mechanical engineer of the Burj. George Efstathiou of SOM is the managing partner on the project, while Adrian Smith, formerly of SOM, is the design partner.
Designer Giorgio Armani is likely to do the interiors of the building.
Source: Burj Dubai Web site