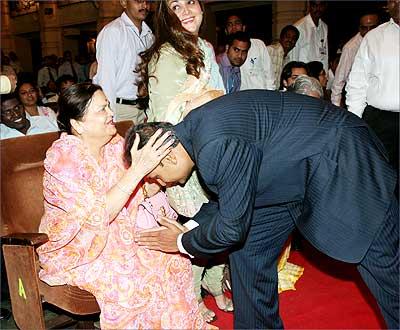 Reliance Communications has grand plans. The Anil Ambani-led telecommunications major aims to have the single largest wireless network in the world by year-end, covering over 900 million Indians.
The company will invest Rs 16,000 crore (Rs 160 billion) for network expansion in FY08, said RCom chairman Anil Ambani on Tuesday in Mumbai.
RCom is looking at inorganic growth route across the world. The company will cover 23,000 towns, or every single Indian habitation with a population of over 1,000 persons, he said. The company will cover almost 100 per cent of all rail routes, all national highways, and 84 per cent of all state highways, he added.
The company has more than 1 million retail customers in the United States, the largest for any Indian company across any sector, a media release from RCom said.
RCom has launched virtual international calling and voice content services in the US, Canada, UK, Australia and New Zealand. The company is one of the leading providers of international connectivity and data services to telecom operators, content providers and Internet communities.
---
Reliance Communications plans to invest Rs 16,000 crore for network expansion in FY08.
The company will launch DTH services by end of this year.
Reliance Communications to spin-out BPO business.
Reliance Communications to unlock value in Flag Telecom through private placement of equity and international listing of shares before year-end. The company will also unlock value in tower business through placement of minority stake to financial investors.
---
FLAG Telecom has turned around and delivered profits at the net level for the first time since its inception. FLAG connectivity to expand from 40 to 60 countries across the world, representing over 80 per cent of global population and 90 per cent of global GDP.
Yipes acquisition will transform RCom's position in data communications services business in the US and globally.
Yipes operations in 14 major cities of the US, from New York to Los Angeles, from Boston to Houston, from Washington to Seattle. Yipes has nearly 1,000 enterprise customers in the US.
RCom to take the Yipes franchise global, leveraging FLAG network in nearly 40 countries, including India, the Middle East, Asia and Europe. RCom enterprise business serves more than 800 of the top 1,000 companies in India.
RCom wireline network expanded to cover almost 5,00,000 buildings, located in 360 business districts in the top 40 cities of India.
RCom has secured a higher share of the IT and telecom spends of enterprise customers, with market share of more than 50 per cent in new business. RCom has also won repeat orders from premium marquee customers from banking to finance, from aviation to hotels, from IT to BPO.
RCom is already deploying broadband and wireless WiMax network in top 10 cities to serve over 4 million small and medium enterprises, RCom has equipped Bangalore and Pune to provide premier WiMax business solution on an "anyone, anywhere, anytime" basis.
Next generation DTH network is in the final stages of preparation, and services will be launched before the end of the year. RCom plans to launch premium IPTV services in the top cities of India.
Reliance multi-play IPTV platform will leverage optical fiber Ethernet network to deliver the most advanced suite of services.
RCOM undertaking 4 key initiatives for unlocking value this year.
Unlocking of value in TowerCo through placement of minority stake to financial investors at an advanced stage.
Expect positive surprise in TowerCo valuation compared to analyst estimates.
Yipes acquisition to substantially enhance FLAG Telecom valuation.
Unlocking of value in FLAG Telecom through private placement of equity and/ or international listing of shares before year-end.
Further unlocking of value through development of Special Economic Zone at Dhirubhai Ambani Knowledge Centre focused on IT and IT-enabled services.
IT/ITES SEZ project already cleared by the GOI's Board of Approvals.
BPO biz
RCom will spin out global-size and profitable BPO business leveraging in-house skills and operational capabilities. RCom in-house BPO enjoys unique competencies and demonstrated operational excellence in telecom, BFSI, utilities and entertainment verticals.
RCom BPO has over 7,800 employees providing multi-lingual support in voice and back office services from multiple locations. 
Unlocking of hidden value through 4 initiatives could represent a significant proportion of RCom's current market capitalisation.
Over the next few years, RCOM will have over 100 million customers, becoming one of the top 5 global telecom players. Convergence between telecom, media, entertainment and the Internet will transform how telecom companies are viewed by all stakeholders.
Digital connectivity brings infinite possibilities of creation, consumption and proliferation of media content in all its diverse forms. RCom will provide the interface and multiple delivery platforms for digital content to be served to hundreds of millions of customers.
Anil Ambani seeks the blessings of his mother, Kokilaben, at the AGM of Reliance Communications Ltd in Mumbai on Tuesday. Also seen in the picture is Anil's wife Tina Ambani (center).
Photograph, courtesy: Reliance Communications Ltd.