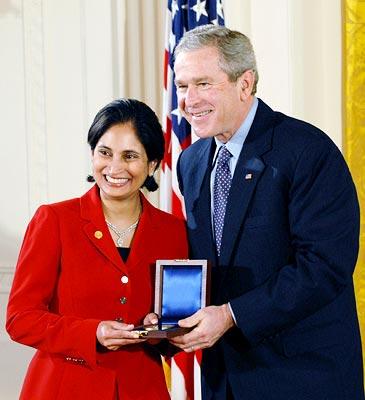 Padmasree Warrior, executive vice president and chief technology officer, Motorola, and the driving force behind the company's recent growth and innovative successes, accepted the 2004 National Medal of Technology Award from President George W Bush on behalf of her company at a ceremony in the East Room of the White House on February 13.
Warrior is also responsible for the success of Motorola Labs, the global software group and emerging early-stage businesses of the company. Her operational responsibilities include leading a global team of 4,600 technologists, prioritising technology programmes, creating value from intellectual property, guiding creative research from innovation through early-stage commercialisation, and influencing standards and roadmaps.
She also serves as a technology advisor to the office of the chairman and to the board's technology and design steering committee.
The prestigious National Medal of Technology annual award recognised Motorola for its outstanding contributions to America's technological innovation and competitiveness.
Established in 1980 by an Act of US Congress, this is the highest honour awarded by the President to America's leading innovators.
Ed Zander, Motorola chairman and chief executive officer, said, "All of us at Motorola are honoured to receive the National Medal of Technology from the President."
"This award belongs not only to the talented employees of today but to the several generations of Motorolans who built our heritage of innovation. Given this heritage, we strongly support the President's plan to keep America the world's most competitive and innovative nation," he added.
Warrior has been with Motorla since 1994 and is an alumnus of the Indian Institute of Technology, Delhi (from where she received her bachelor of science degree in chemical engineering). She then obtained her master of science degree in chemical engineering from Cornell University.
"We applaud the Administration for proposing increased investments in R&D, in particular for the National Institute of Standards & Technology (NIST) at Commerce and the National Science Foundation," said Warrior.
"From convergence to mobile Internet to nanotechnology, we must educate, excite and inspire our nation's children about science, technology, engineering and mathematics," she said.
In an interview with rediff.com, immediately after accepting the award, Warrior said, "It's a great honour, I feel really humbled, and I feel very happy for all of our engineers worldwide, because the award is really theirs."
She said being in the company of several other leading scientists and technologists who were also awarded the National Medical of Science and the National Medal of Technology Award, "who made these great breakthroughs in the fields of science and technology was very inspiring to me to be amongst of the company of these people."
Warrior said while giving her the medal at the awards ceremony and also preceding the ceremony "he (President Bush) talked quite a lot to me and asked me if I was from India and I said, 'Yes, I came to the US on a student visa to go to graduate school and then stayed here.' And he said 'we need more people like you. We need more talented people from around the world to come and contribute and help our economy grow and build our innovative strengths to be competitive.'"
She said Bush had also told her that he was looking forward to his visit to India. "He said, 'I am going to India in a couple of weeks and I'll be meeting once again with my good friend, Prime Minister Manmohan Singh.'"
Bush in his remarks before presenting the National Medals of Science and Technology, declared, "It is a honour to be in the company of so many bright and distinguished Americans. Each of our honorees has been blessed with talent, and each has used their talent to the fullest."
"The work we honour today has improved the lives of people everywhere. It has helped to move our economy forward and it has helped to make sure that America is the leader of innovation in our world. The medals are our nation's way of expressing gratitude to gifted and visionary citizens."
Bush said that these annual awards "are the highest award a President can bestow for astounding achievement in science and technology. They recognise work that has helped expand the horizons of human knowledge. The National Medal of Science honors those whose research has enhanced our understanding of life and the world around us. And the National Medal of Technology recognises innovators whose work keeps America on the cutting edge with discoveries that change the way we live."