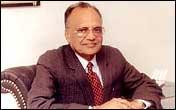 Jindal Group chairman O P Jindal, who died in a helicopter crash near Gango in Uttar Pradesh's Saharanpur district on Thursday, was a visionary and a man of rare business acumen.
At the time independent India's premier industrialists were redrawing the blueprint of the nation's commerce and industry, Jindal -- a farmer's son -- was hard at work redrawing the blueprint of his small business in Nalwa, a village in Haryana.
Lacking the expertise to start a manufacturing unit, O P Jindal did the next best thing: he started trading in steel pipes. The early years were tough; and what saw him through was his vision and the determination to realise it.
Thus began the extraordinary journey of O P Jindal, whom the Jindal Organisation calls its 'Man of Destiny.'
By 1952, he was proficient and experienced enough to set up the group's first factory at Liluah, near Kolkata for the manufacturing of steel pipes, bends and sockets. Soon thereafter, a similar manufacturing unit was set up at Hisar in Haryana.
This period also saw the emergence of a professional culture. Jindal -- the proprietorship was transformed into Jindal -- the organisation. In the early 60s, Jindal R&D showed promise by developing India's first 100% indigenous pipe mill, again at Hisar. This was a breakthrough, the first of many in the years to come. Jindal built up a reputation for ingenuity of product and product integrity.
In 1970, he established Jindal Strips Limited and a mini steel plant set up at Hisar to manufacture coils and plates through the electric and furnace route.
From an indigenous single-unit steel plant in Hisar, the organisation has grown into a multi-billion, multi-locational and multi-product steel conglomerate.
Earlier this month, Jindal was named in the Forbes magazine's World Billionaires List, ranked at No. 548 with a wealth of $1.2 billion.
In the world of business, the Jindal Organisation is a celebrity. Ranked sixth amongst the top Indian business houses in terms of assets, the group today is a $2 billion conglomerate.
Over the years, Jindal has been expanding, integrating, amalgamating and growing, but its motto has remained the same: 'We are the Future of Steel.'
The management of the company is now handled by OP Jindal's sons P R Jindal, Sajjan Jindal, Ratan Jindal and Navin Jindal (who is also a Member of Parliament) and his granddaughter Sminu Jindal.
The group has been technology-driven and has a broad product portfolio, but its focus has been steel. From mining of iron-ore to the manufacturing of value-added steel products, Jindal has a pre-eminent position in the nation's steel segment. It also has plans to be a global player and is eyeing acquisitions abroad.
With inputs from Jindal Steel Web site