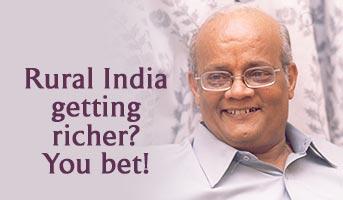 Anugraha Madison has widely been credited with introducing the concept of rural marketing in India. The company was one of the first marketing firms to realise the potential of rural India and decided to focus on rural marketing.
R V Rajan, chief managing director, Anugraha Madison, shares his views with Shobha Warrier on how rural India has changed over the last two decades.
When marketing agencies concentrated only on urban India, why did you decide to focus on the rural market?
My foray into the rural market was not deliberate. It so happened that when I came to Chennai from Mumbai in 1974, I found that most of the clients belonged to the agriculture and fertiliser sectors. So I had to deal with farmers.
When Sam Balsara of Madison came down to Chennai looking for an associate, we decided to have a joint venture and position ourselves as rural specialists mainly because of my experience in the field.
Although I have been involved with rural communication and marketing for the last two and a half decades, the positioning of Anugraha took off only after the joint venture. Anugraha Madison is now the rural division of Madison Communications.
In the last two and a half decades, how much has rural India changed in its aspirations, attitude and consumption?
Rural India has changed tremendously. The data published by the National Council of Applied Economic Research shows that in the last ten years, the income of rural India has grown several-fold. There is a definite shift from middle to upper middle class and from lower to middle class segments.
Is the shift due to the growth in Indian agriculture?
For the last 10 consecutive years, we have had good monsoons. So, agriculture is prospering. Of course, there have been setbacks in the last couple of years.
Another interesting aspect is, today rural India is not 100 per cent dependent on an agrarian economy. Unlike in the past where the ratio between those who involved in agriculture and in other business was 75-25, today the estimated ratio is 50:50, if not 60:40.
So today, 50-60 per cent of the rural population is involved in other businesses. A lot of people belonging to the second generation are getting white-collar jobs in nearby towns. So, there is a growing middle class with a monthly income in rural India and it is a drastic change from the past where their income was totally dependent on the monsoon, cropping season, etc.
This has resulted in a definite growth in the prosperity level in rural India. Of course, there are still a lot of poor people, especially the agricultural labourers. But there is a growing middle class with regular income and the rural rich are becoming richer.
Is the urban-rural divide in India thinning now?
The urban-rural divide is still there, but the divide between urban and rural India is thinning among the top segment of rural India. The rural rich are almost like urban India.
Rural India is like a pyramid. The top of the pyramid is occupied by the rich farmers and businessmen. They may constitute around 5 per cent of the population. The next level belongs to those with a regular income and the base of the pyramid is occupied by the vast majority of the people who are daily wage labourers.
So we cannot say that the urban-rural divide has melted. It is still there. But there is hope with the growing emphasis on education.
How would you categorise different parts of rural India?
In India, we have the developed rural India and undeveloped rural India. Punjab, Haryana, Tamil Nadu, Andhra Pradesh, Kerala and parts of Maharashtra come under the developed rural India but the rest of the states are undeveloped where power, infrastructure, etc are big problems.
The prosperity of Kerala has come from the NRI income and not from agriculture. Today, there is hardly any village in Kerala.
Tamil Nadu is prosperous as power and good roads are available. All the villages with proper infrastructure have developed. In such villages, people also have better access to towns and cities.
What are the major reasons for the change in the lifestyle of the developed rural India?
Television has done wonders to rural India. Today, especially in the south, the penetration of satellite television is very high, which is around 50 per cent unlike 25-30 per cent in the rest of the country.
These people may not be literate in the true sense but they know what is happening around the world because of television. They know how the rest of the country live.
Do you television is driving the aspirations of rural India?
Definitely, the rural youth today is an important trigger in changing the profile of rural India. About 40 per cent of the graduates coming out of Indian universities today are from mofussil areas. And, they are all doing very well.
Their aspirations are similar to the urban youth, and it gets reflected in their eagerness to earn more and live better. So, if there is a problem in agriculture, they do something else. They ensure that they have steady flow of income.
It has been reported that by 2009-10, the number of urban households is projected to grow by 4 per cent, while rural households are expected to grow by 11 per cent. Does this mean developmental initiatives are reaching rural India?
The total expenditure of urban India is almost equal to what has been spent by rural India. But what is being spent by urban India is being done by only a small percentage of the population.
About 25 per cent of the urban India is spending as much as 75 per cent of what rural India is spending. This shows the potential exists in rural India. There is a huge market waiting to be tapped in rural India.
So the corporate world cannot ignore rural India?
Yes, they cannot afford to ignore rural India. Unfortunately, they are only talking about it, they are not investing enough to get the maximum mileage out of it.
For them, rural India is an unknown entity even today, and it calls for a lot of investment. Initially, the ratio between investment and returns will not be the same as you see in urban India. For urban India, one television spot is enough but it's not so in rural India. You have to slog it out there.
But eventually, you will get the returns. In today's corporate world, all the managers, especially those working in the MNCs depend on their quarterly results. They only look at what gives them immediate success. Freebies have no meaning in rural India. You have to give value for money for the brand you are selling.
How long can the corporate world ignore rural India?
You will not be able to survive without rural India in future. One company that conquered the rural market 50 years ago and has consistently ruled is Hindustan Lever.
About 50-55 per cent of their sales come from the rural market. Even today, they are constantly innovating and improvising. And Hindustan Lever is marketing directly in the rural markets.
The success of Cavin Kare has become a very notable case study. It is a company that began in a small way. It started the Chic shampoo sachet for 50 paise when shampoo was available at Re 1, and it revolutionised the market.
The sachet pack itself was a novel way of attracting the rural market. Now, it has conquered the rural market all over India. They are giving a run for Hindustan Lever's investments, as they have understood the local market very well and communicate in their language. Now, Maruti is also seriously looking at rural India.
According to a report, between June 2002 and December 2003, rural per capita consumption expenditure grew by 11.5 per cent while the urban expenditure grew by 9.6 per cent. What are your comments on this?
Yes, there is a tremendous potential for consumer durables like television sets, refrigerators, air-conditioners and household appliances in rural India.
After the basic needs of food, cloth and shelter, they are looking at how to live better.
Television is the most sought after consumer item in rural India followed by two wheelers. Gradually, they are moving to small cars like Maruti and that's what Maruti is trying to exploit.
Design: Uday Kuckian
Photo: Sreeram Selvaraj