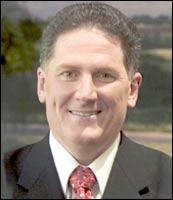 Charlie Bell, former chief executive offier of McDonald's Corp, died of cancer on Monday in his hometown of Sydney, Australia. He was 44.
He is survived by his wife, Leonie, and daughter, Alex.
Bell was diagnosed with colorectal cancer in May, a month after taking over as CEO, and stepped down from the Oak Brook, Illinois-based company in November to focus on his battle with cancer.
Jim Skinner, who took over as McDonald's CEO after Bell stepped down, said in a statement: "As we mourn his passing, I ask you to keep Charlie's family in your hearts and prayers. And remember that in his abbreviated time on this earth, Charlie lived life to the fullest."
Charlie Bell became McDonald's youngest Australian store manager at the age of 19 and was promoted as vice president of the company when he was 27.
He became the company's managing director in 1993, and then headed its Asia-wide operations, before being promoted as president of McDonald's Europe.