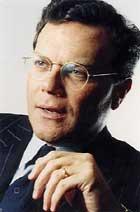 Conventional wisdom talks of economies of scale. But in today's world, perhaps we should be looking at economies of learning and knowledge, says Sir Martin Sorrell, founder of WPP, one of the world's largest advertising groups.
---
I entered the party, curious. I was to interview Sir Martin Sorrell the next morning and had been invited to informally meet him the previous evening. The big white chief was standing under a tree, welcoming his tribal heads. Sorrell dislikes the phrase corporate culture but does like to refer to WPP as a collection of tribes.
It was an impressive turnout: talented art directors, market researchers, media planners, HTA's Mike Khanna, Ranjan Kapur (Ogilvy & Mather), Ram Sehgal (DYR Rediffusion), Roger Pereira (Burson-Marsteller Roger Pereira Communications) and of course, Shunu Sen, country head of WPP in India. One way or the other, Sorrell's London-based $17 billion WPP Group plc controls virtually half of Indian advertising. Mudra is one of the rare remaining Indian independents.
There was only one topic of conversation: Sorrell. Of the hundred or so invitees, few had met their boss. Asked about what WPP meant to them, I encountered shrugs. "WPP doesn't interfere. That's the way it should be." The response did not gel with Sorrell's hard-line reputation.
In a free-wheeling interview with The Smart Manager, Sir Martin Sorrell explains how he manages over 100 companies operating in 92 countries.
Out of the 65,000 people employed by the WPP group, how many would know the WPP mission statement?
Well, I mean the right answer is, I don't know. But I would guess probably 10 or 15 or 20 per cent, something like that. These things percolate over time. I don't think you instantaneously have to drill it down. We have got a tricky problem because we try to maintain the identity of the individual companies.
It's important for people to have the WPP mission statement in their back pocket, but the J Walter Thompson part should know its mission, as should Rediffusion or Ogilvy & Mather.
It's important that people understand what we are about, which they can do by visiting the website or through the annual report or our internal publications such as the Navigator. That's subtle, not brutal.
We also have a regular training programme which reaches out to about 4,000 to 5,000 people. Coming into contact with WPP is the best way of getting people to understand what we are about.
What are the changes taking place in WPP's business model?
I think it is less hierarchical, less bureaucratic. It's more network, more horizontal than vertical. There's more dissemination and exchange of information. Ideally all 65,000 of us should know what the other 64,999 people are thinking, which is just impossible.
It's very difficult to make 65,000 people think and move and face in one direction and at the same time be aware of what everybody else is doing and what knowledge they have. For example we have 500 retail experts linked by an external intranet.
We try to exchange information, subject to professional confidentiality. The idea is that wherever in the world we have a retail opportunity, such as a manufacturing unit considering a retail relationship, we can supply information on the latest thinking.
Manufacturers and retailers would get information about one another, about category management, about how people develop relationships at the retail level and the wholesale level. And we try to disseminate information as quickly as possible.
There are economies of scale but there can be economies of learning and knowledge also. We have 'test beds' that examine ways of improving our processes. These test beds span major profit centers, and cover global client business units, countries, cities and offices. The aim is to improve our business processes and examine ways to improve profitability through better work, done faster.
There is no definite business model. It's a messy mind, not a tidy mind. It's not a pyramid. We are very decentralised, trying to encourage people to be team players and at the same time encourage them to become entrepreneurs.
There are people in the organization with higher pay than people at senior levels. So the business model would be the management of paradoxes and contradictions.
Over which areas do you keep a tight control?
The tight areas have shifted in the last ten to fifteen years. Earlier they were purely financial. Now the tight areas include human resources, both recruitment and training.
We invest about 50 per cent of our revenues in people, ie about $3 billion, and we invest about $600 million dollars in property a year. We have been spending on information technology, common buying, travel.
The real question is: what is WPP doing in terms of adding value instead of just being an investment financial holding company? We have picked up a few areas: Human Resources, Property Procurement, Information Technology, and Practice Development.
We picked about ten practice areas with high growth potential, not all apply to India. Corporate consulting on branding and identity, healthcare, media and technology services are some areas. These are soft-tight areas but we want to indicate to people that this is where we think we can add value across the various businesses. Unless WPP adds value, there's no point in existing.
There's a case on WPP and I was at the Harvard Business School when it was being taught. At the end of it somebody put his hand up and said, 'Well you have been at this for sixteen years, and it doesn't look as if you have integrated too much.' I said, 'You know, you are probably right.' I didn't take it as an insult.
The market is shifting and I am very market driven. I don't think we come with a view. Often we are wrong about the market but we listen to our clients, whether it is about moving from commissions to fees or the remuneration structure.
Fees represent about 30% of WPP's advertising business. Where we can add value, we make significant increases in margins. We are basically in the business of selling time. The more specialized the business, the more focused the business, higher the margins. The more general it is, the weaker it is.
How do you deal with internal conflicts?
Prior to negotiation, there's probably a lot of blackmail, moral and immoral!
What happens when there are differences among your CEOs?
I don't get involved. The honest answer is through the market place. That's where conflicts should get resolved.
If a CEO is not aligned or not moving fast enough, what happens?
If we think it is strategically critical, we will set up another channel.
Not remove him or her?
Well it depends on him or her. We have got a very good group, and my critical function is to see that we have the best. If there are nine units, my role is to get the nine best people.
I think we have got some very good people now. If one or two of those people have disagreed, I probably did think they had made an error of judgment, that they had made a mistake. But that would not necessarily be enough for me to take action.
When was the last time you ever asked anyone to go?
About three or four years ago. The guy clearly wasn't good and had to be replaced. Actually, interestingly, the decision about whether people should be asked to stay or go is largely an academic one.
It's not the actual decision but the implementation. And if you delay implementing it, it always hits you in the backside. Command and control structures don't work anymore.
Yet you have a reputation of being very number driven.
I am not hard. I am probably pretty soft. And I am not number driven. I only believe that numbers don't lie and numbers tell you a lot of what is going on inside your business.
Which key financial figure do you always look at?
The STIP target that I give to everyone in the group.
What is STIP?
The annual short term incentive plan. There are five, of which three or four are arguably quantitative and one is qualitative. WPP's CFO plans the targets. Qualitative targets would be the media edge, it might be creative development or professional development.
So a number of qualitative targets as well as quantitative ones are evaluated.
We base our planning on an organic growth rate of 5-10%. This rate is a sort of bedrock, ignoring currency and ignoring acquisitions. A margin growth of around 15% with a constant currency gives an organic growth rate of between 5-10%.
We look for incremental profit growth from alliances and acquisitions. There's an objective that 7-8% of revenues come from variable costs. The defined variables are incentives, freelance and consultancy fees. It's a shock absorber in a recession.
How much operational leeway do the CEOs have?
The WPP corporate office is small. There's a little office in Mayfair and not such a big one in New York, about 160 people. It should probably be a bit bigger but I don't want it to be. Over time all the financial control people have gone into operations. Virtually every CEO is a WPP trained person. Initially people thought they were spies.
We try to harmonise WPP's strategy with the strategies of the individual units. There are inconsistencies but the professional running of the individual companies is kept very loose.
We do have disagreements, arguments and discussions about the strategic development of the individual brands. The larger agencies, Thompson's and O&M probably believe that they should develop their own media departments.
We are still accused of being truly bureaucratic and people in the operating companies feel that they have far too many forms to fill and the processes far too detailed and complicated. They are probably right. Bureaucracy is creeping into the organisation which drives me nuts.
What are the big challenges in managing people?
The challenge is to make sure they feel they are more important than me. Sublimating your ego is important to avoid the clashing that you referred to.
There has to be give and take, some strategic retreats. Sometimes there is a sort of moral blackmail that goes on. And do I really get the truth? Good news travels fast, bad news travels slowly. People don't like bad news so we always hear about wins before they are announced and you always hear about losses only after they are announced.
How much do you need to know?
Everything.
Is that possible?
No, but I need to know as much as I possibly can, not because it is important to know but because it gives you an idea about how things are going.
As a global CEO, if your database is well linked, you can be really up to date before you meet others so at least you appear to know what is going on.
Lots of people say that I am too much of a micro manager. I regard that as a compliment, not an insult. There are people who pull away from details and become totally consumed with strategies and tactics but implementation suffers.
If you ask someone why he got fired, the reason is usually because of execution not because they did not have a vision. We tend to have a lot of initiatives going on. I tend to believe that it's better to have thirty initiatives a day so you can get ten done, rather than have three and get just one or two done.
Being prepared is important. There are no nice neat mathematical models. What works in one place will not work in another. There are no global approaches, no blacks and whites but shades of gray. There have to be compromises, with strategic advances and strategic retreats.
You have to have different models. It could be an alliance model with just 20% of the company. It's pretty important to have a vision and execute that vision. I should be determined. Persistence is very important and speed is also very important.
I used to say it's better to take a bad decision on Monday than a good decision on the following Friday and I still think that it is true. You have to give people an instantaneous response, that's why I'm accused of being a micro manager.
Powered by
Published with the kind permission of The Smart Manager, India's first world class management magazine, available bi-monthly.