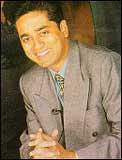 Rajdeep Sardesai and Sameer Manchanda -- who quit as managing editor and CFO of NDTV, respectively, on April 15 -- have 'formed a new venture called Broadcast News in collaboration with the TV18 group to launch television channels in the news and information space.'
"We believe that the Indian news market is rapidly expanding and there is enormous potential for new media properties in this space. We believe this venture is ideally positioned to exploit and leverage these opportunities, and we hope to have the support and the goodwill of the Indian viewers," the duo said in a media statement on Tuesday.
Speaking to rediff.com earlier in New Delhi, Rajdeep had said that his would be a journalist-driven channel.
"We will be launching a new channel that will be driven by the journalists. The emphasis will be on good journalism and journalistic stories. We will announce this in a fortnight. Till then I would not like to discuss any details," he had said.
"I had a dream of doing something on my own. I have got an opportunity and hence I am utilising it," he said, when asked why he quit NDTV.