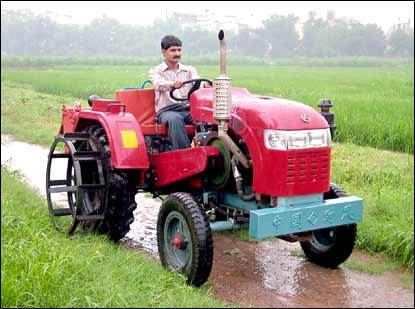 Delhi-based SAS Motors Ltd on Tuesday launched Angad, the Rs 99,000 tractor that, it said, was ideal for Indian conditions besides being cheap.
"Angad can function perform all the functions of the 25 HP tractor and is suited to the Indian conditions where the farmers have small land holdings and high paddy cultivation," SAS Motors managing director Ravindra Kumar told reporters in Mumbai.
The tractor consumes 25 per cent less fuel and the maintenance cost is 60 per cent lower compared to other tractors of the same category, he said. About 75 per cent of the components are being imported from 'the biggest Chinese tractor making company,' which would be reduced to about 35 per cent in the next eight months, he added.
"Angad is built on technologies appropriate for the Indian conditions which has enabled the company to cut prodcution costs significantly thereby bringing farm mechanisation within the reach of every small farmer," Kumar said.
The tractors currently being sold in the country are of western design and useful for huge land holdings but in India the holdings are less, he said, adding a tremendous amount of value engineering and low-cost mechanisation has brought the costs down. -- PTI