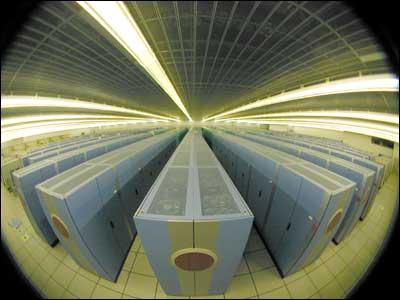 Japanese electronics giant NEC Corp, on Wednesday, announced the launch of the SX series model "SX-8," the world's most powerful vector supercomputer with a peak processing performance of 65TFLOPS (one trillion floating point operations per second).
NEC claimed its SX-8's data processing speed is well beyond IBM's recently unveiled Blue Gene/L supercomputer.
IBM builds world's fastest supercomputer
The SX-8, with its dedicated CPUs, large-scale memory, and high data transfer rate between memory and CPUs, delivers much higher sustained performance than scalar supercomputers with a number of general-purpose CPUs. This is particularly effective in fields that require large-scale and ultra high-speed computing of massive data, such as meteorological forecasting, environmental simulations and automotive crash analysis.
In September, IBM announced that its Blue Gene/L, sustained speeds of 36 teraflops, surpassing Japanese 'Earth Simulator' which has a speed of 35.86 teraflops.
NEC said its newest SX series model has a peak processing speed of 65 teraflops and a sustainable performance of roughly 90 per cent that speed or 58.5 teraflops.
Features of the new product are:
World's highest computing performance of 65TFLOPS
The single-node model (includes up to 8 CPUs) achieves a peak vector performance of 128GFLOPS (one billion floating point operations per second), while the multi-node model achieves the world's fastest peak vector performance of 65TFLOPS when configured with 512 nodes.
In addition, a 262TB/s (36.8TB/s in SX-6) high peak data transfer rate between CPU(s) and memory is realized, and it also boasts an enlarged memory capacity of up to 64TB (16TB in SX-6).
Further-enhanced single-chip, vector processor
The vector processor (vector and scalar units) is integrated into a single chip by applying leading-edge CMOS technology with 90-nanometer (nanometer: 10-9 meter) copper interconnects and the most advanced LSI design technology.
Pipelines of the vector unit, the central part of a vector processor, operate at a 2GHz clock frequency, which is double the speed of the SX-6, and realize a peak vector performance of 16GFLOPS per CPU.
Moreover, hardware support of the vector square root operation achieves a sustained performance six times higher than that of the SX-6.
Excellent space-saving and power-saving
The SX-8 achieves a reduction in space by 25 per cent and power consumption by 50 per cent as compared with conventional models. This was achieved by applying high-density packaging technology in which processor(s) and memory are implemented on a single module.
Software environment suitable for large-scale, multi-node system
The basic software, "SUPER-UX," maintains upward compatibility with the existing SX series, and achieves further scalability expansion due to enhanced I/O processing and MPI. Global File System, a high-speed, file sharing system among multiple nodes on a system or among different systems, has also been enhanced.
By utilising GFS, users can access the shared files with a high performance close to that of a local disc, and can also take advantage of the high performance functions of GFS from third party platforms such as SUN and HP as they do with NFS (Network File System).
The monthly rental of the SX-8 starts from approximately ¥1,170,000, and shipment will commence in December 2004.
NEC aims to achieve worldwide sales of more than 700 SX-8 units for the next three years. In 1983, NEC entered the market of supercomputers with the launch of SX-2, whose performance exceeded 1GFLOPS for the first time ever, to meet the needs of ultra high-speed scientific computation.
Since then, NEC has received over 700 orders across the SX series for their high sustained performance and excellent price performance.
NEC's Earth Simulator Supercomputer in Yokohama, Japan.
Photograph: NEC/Getty Images