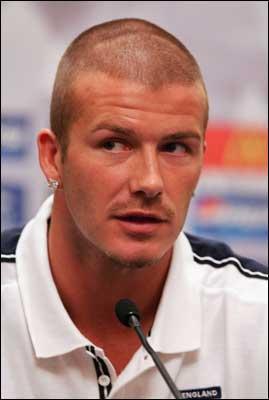 How long would it take you earn £1 million (Rs 8.2 crore)? Well, if you are David Beckham, only 18.25 days!
Beckham, one of the world's most famous and Britain's richest sportsman, earned more than £20 million last year, said The Mirror.
His huge earnings were revealed in the latest accounts of Footwork Productions. Beckham is the sole shareholder of Accounts for Footwork Productions, a company through which he channelises his non-football earnings, according to The Telegraph.
'Goldenballs', as Beckham has been nicknamed, took home a salary of £7.9 million from May to December 2003. His earnings from playing football (£5 million) and from the huge advertising and endorsement deals that he has under his belt, made up for the rest of his income.
Footwork Productions, however, was quiet on how much tax does Beckham pay.
He endorses major global brands like Vodaphone, Pepsi, Adidas, et cetera. He also endorses Tokyo Beauty Centre (TBC) jointly with his wife, Victoria.
The star footballer's wealth has been pegged at £65 million by the Sunday Times.
But Beckham is not making money for himself alone. He is said to have boosted the income of Real Madrid, the club he singed up for after his Manchester United stint, by £215million. Real Madrid's income was £220 million in 2002 but grew to £435 million last year, a feat that has been attributed to Beckham's golden touch.
Star footballer David Beckham. Photo by Phil Cole/Getty Images