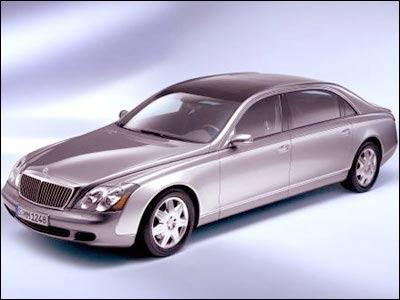 DaimlerChrysler India, on Thursday, handed over the keys to the first Rs 5-crore (Rs 50 million) Maybach, the country's most expensive car to Pan masala tycoon Rasiklal Manikchand Dhariwal.
Reliance Industries, chairman, Mukesh Ambani is the only other Indian to own the luxurious saloon. Ambani bought his saloon from London, before Maybach's India operations commenced.
Driving the Rs 5.5-crore Maybach!
Most expensive cars of India
The keys of the nayarit silver- and mid grey-coloured super luxury saloon was handed over to Dhariwal by DaimlerChrysler managing director Hans-Michael Huber at the company's Pune plant.
About 15 top Indian billionaires had pledged Rs 75 crore (Rs 750 million) for buying Maybach.
Luring Indian customers with deep pockets, Maybach, made a debut in India early this year.
Earlier, the luxury carmaker had said it would sell 7-8 units of Maybach annually.
The car will be produced on orders and it normally takes six months to deliver a Maybach.
With Maybach's launch in India, its German-US manufacturer DaimlerChrysler has received a number of queries about the car.
Not to be outdone, Bentley has lined up Arnage R and Continental GT, which will cost Rs 3 crore (Rs 30 million) and Rs 1.6 crore (Rs 16 million) respectively.
In a move, which shows the depth and maturity of the Indian auto market, BMW is also toying with the idea to charm buyers with super luxury saloon 7-Series.
The super luxury sedan will be imported as completely built units.
PTI