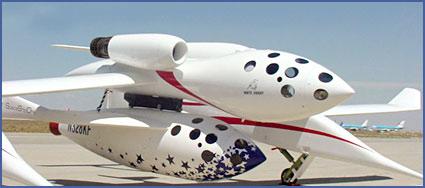 SpaceShipOne, the world first privately developed spacecraft that first entered the space in October, has been named '2004 Invention of the Year' by Time magazine as a part of its annual 'Coolest Invention' issue.
The craft, designed like a shuttlecock, made three trips outside in space this year and won an X Prize of $10 million for private space travel after it made two trips in two-week period.
Time praised its designer Burt Rutan as 'ingenious.' Rutan, Time noted, personally designed the craft, a vehicle 'as improbable as it is revolutionary.'
The size of a small biplane, SpaceShipOne is a shell of woven graphite glued onto a rocket motor that runs on laughing gas and rubber. Portholes, like an ocean liner, punctuate the nose. Inside, the critical instrument is a Ping-Pong ball decorated with a smiley face and attached to the cabin with a piece of string, which goes slack when the pilot reaches the zero-gravity of suborbital space.
Backed by two starry-eyed billionaires, SpaceShipOne is set to become the first in a new line of space-tourism craft coming in 2007.
"It's a spaceship that fits in your two-car garage, and you can take it to space every other day," says X Prize founder Peter Diamandis. "That's pretty cool."
A selection of 'Cool Inventions' to make Time's list include:
Centaur: Take a Segway scooter, add a second pair of wheels and a banana seat, and you've got the Centaur. Prototype invented by Segway.
adidas 1: Computers in your shoes? Believe it. A sensor in the new sneakers measures with each step how much compression you put on the heels of you shoes. Invented by adidas.
Nike Strapless Goggles: Nike swim goggles use disposable adhesive strips to stay in place and keep water out, even after a dive.
Surf 'n' Surf: Last spring Intel commissioned a surfboard shaper in North Devon, England, to design a board with an embedded tablet PC. Prototype invented by Intel.
The Sword: Insurgents, be afraid. An armed, unmanned ground vehicle that never gets tired, hungry or scared is headed your way. Invented by the U.S. Army. In 2005, 18 will be deployed in Iraq.
OraQuick Advance: A health professional simply swabs the inside of a person's mouth along the upper and lower gums and then inserts the stick into a vial of solution that tests for HIV-1 and HIV-2 virus strains. OraSure invented the 20-minute test.
RipeSense: HortResearch has developed a sensor that detects when pears are ripe by analyzing the aromas emitted by the fruit.
Jetboil Personal Cooking System: Cuts the risk of forest fires by allowing campers to prepare soup, pasta, rice and beans - any single- pot dish - quickly and safely.
3M Novec 1230 Fire Protection Fluid: It looks like water. It pours, flows and sloshes like water. But it doesn't get things wet. This wonder fluid is perfect for putting out fires in offices, computer rooms and museums. Just don't try drinking it.

LiTraCon: Mixing glass with cement may seem strange, but that is what Aaron Losconzi, a Hungarian architect, has done to create a transparent concrete called LiTraCon.
-- PTI
The SpaceShipOne. Photograph: Scaled Composites