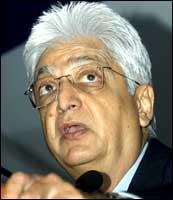 Highlighting the poor state of infrastructure in Bangalore, India's Silicon Valley, Wipro Chairman Azim Premji has threatened to move base out of the city and said that the IT major would expand its operations outside Bangalore.
The IT czar, who is also one of India's richest men, said that Wipro would invest in cities like Kolkata, Hyderabad, Chennai, Delhi, Kochi and Pune.
Premji said that Bangalore's infrastructure was fast deteriorating. "We all believe that the infrastructure problem is serious here. We are not moving out of Bangalore. But to sustain and grow, we need to go to places where there are opportunities - both manpower and infrastructure," he said while releasing the company's results on July 23.
Premji recalled that two years ago he had expressed the same concern, but nothing much had happened. "It is for you to judge whether there is any improvement," he said.
"In the last one year, we have seen infrastructure services deteriorating in and around Bangalore. Nowadays, our employs take longer time to commute from workplace to their homes. Our attrition levels, especially in the IT-enabled and BPO services have been rising year-on-year and demand for higher wages increasing," rued Premji.
"We do not see the situation improving in the near future. Hence our decision to look beyond Bangalore for expansion and growth."
Premji said that Wipro's Kolkata centre will be opened in August. Vivek Paul, Wipro vice chairman, too aired similar views. "We have not seen any infrastructure growth in the last five years in Bangalore and we do not foresee any growth in the next five years. It is difficult to sustain in Bangalore."