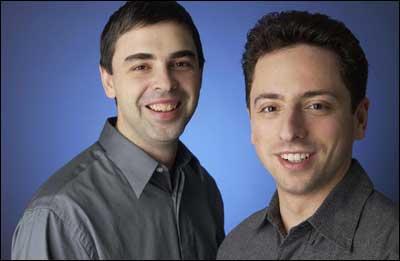 Google, the Internet search engine major, may become a $30 billion company when it goes public.
In a filing with the Securities and Exchange Commission on Monday, Google estimated a price range of $108 to $135 per share for the initial public offering. It will sell 24.6 million shares.
The promoters of successful companies always mint money but not anywhere approaching Google's.
The Moutain View, California-based company would have a market capitalisation between $29 billion and $36 billion, counting shares held by insiders. Only 9 per cent of the company's stock is being offered in the IPO.
The company has asked for the ticker symbol 'GOOG' in trading on the Nasdaq Stock Market.
The filing revealed that in the first six months of 2004, the company earned $143 million, 54 cents per share, on revenue of $1.35 billion, compared to the $58.0 million profits, 23 cents per share in the corresponding period of the previous year on revenues of $560 million. --PTI
Larry Page(L), Co-Founder & President, Products, Google; and Sergey Brin, Co-Founder & President, Technology, Google. Photo: HO/AFP/Getty Images