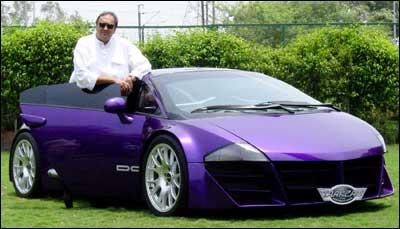 Next
Car designing firm Dilip Chhabria Design or DC Design, on July 15, unveiled the 'wonder car' used in Gordhan Tanwani's Rs 15-crore (Rs 150 million) thriller, Taarzan - The Wonder Car.
The dream car costs a whooping Rs 2 crore (Rs 20 million). The car is the hero on four wheels and can swim, fly, cross fires and fight villains as well. The movie revolves around Raj (Vatsal Sheth), a mechanical genius who designs a fantasy car that becomes the envy of the whole country. Reminded of Knight Rider? Ah well!
Chhabria's violet hotwheels modelled on a Toyota MR2 took eight months to produce. He said he aimed for a bold clientele for his car who could identify with the colour. The soon-to-be released film was directed by Abbas-Mustan.
Chhabria also said his firm DC Design will come out with an initial public offer in the next three years.
Photo: Dijeswar Singh/Saab Press | Next