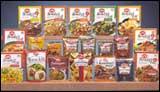 The idlis and sambar are every bit as tasty, when they land on a snow-clad mountainous region on the northern frontiers of India, as the ones you get in the best Udipi hotels, thanks to the expertise of the Bangalore-based MTR Foods.
Few people, even inside the company, know that some of MTR Foods' ready-to-eat food is flown out to the soldiers who guard the Indian frontiers in the freezing climes of the Himalayas.
The company now boasts of having created the world's first ever frozen dosa, which can be heated and eaten straightaway.
"We are not at liberty to tell you what we charge for each of these packets, or how many we despatch each year," says Sadananda Maiya, managing director of MTR Foods.
"We do not even know ourselves in advance when the packets will be picked up or where they are taken to."
Interestingly, the foods are packed by using the technology that MTR bought from the Defence Food Research Laboratory in Mysore.
The company also received a technology absorption award from the central government.
The packing technology has helped the firm make the big leap from a manufacturer of spices, papads, pickles, chips, pastas and other such snacks to ready-to-eat foods, ready-to-cook gravies and frozen foods.
But for the lack of the technology, MTR would have entered the ready-to-eat food market long ago. Maiya admits that the cost of packing is actually almost half the price component of the finished foods.
What is most interesting about MTR's packaged food - as against the others of its kind - is that the company prepares its fare without adding any preservatives, Maiya says.
The food is heated to a high temperature, at which heat all microbes die, and then it is cooled in a very sterile manner and packed. So, even without preservatives, you can store the cooked-and-ready masala dosas or alu bhaji for almost a year.
For many years, Mavalli Tiffin Room, now known as MTR, has been a heritage restaurant that is a must-see for visitors to Bangalore.
It specialises in an entire range of South Indian foods, and is located in the busy Lalbagh area. Sadananda Maiya's father Yajnarayana Maiya started it in 1924.
The Maiyas, of course, have their origins on the Karavali coast of Karnataka, which is famous for its vegetarian cuisine.
Hygiene has been a major selling point of MTR for the past half century ever since Yajnanarayana toured Europe for the first time and was impressed by the clean restaurants there.
In fact, the entrance to the eatery was from the kitchen, for many years, to enable patrons to satisfy themselves about how clean their food was.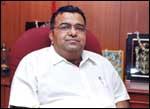 Sadananda himself joined MTR as an apprentice cook, after his father died in 1968, although he was actually in the engineering college at that time.
"We then went on to make MTR the first fast food restaurant in the world with a record of serving 21,000 customers in seven hours," he says proudly.
They grew happily as a popular restaurant with a distinct brand name till Emergency. Then, the Union government decreed that the five popular restaurants in Bangalore, including MTR, should reduce their prices and make them affordable to the common man. MTR had to comply, but kept its food standards high, and eventually closed down after two weeks.
This was when the Maiyas diversified into a side business of convenience foods and instant mixes. They began with powder mixes for rava idli, dosa, rasam, sambar and khara bhaath.
When the eatery opened again later, they continued the side business. By the beginning of the 1990s, the readymade mix business was doing so well that the MTR Food Products shifted to a modern plant in Bommasandra.
Now, there is a whole cluster of factories in Bommasandra belonging to the company, including one that makes ice cream.
Besides, Maiya has invested Rs 40 lakh (Rs 4 million) for a clean-in-plant technology for his ice cream factory to ensure that the ice creams are absolutely hygienic.
By then, Sadananda had broke away as a separate entity. The restaurant continues to function now under Maiya's niece Hemamalini and her brother.
MTR Foods is under Sadananda. Now, this company has an export income of about Rs 8 crore (Rs 80 million) per annum.
Their turnover last year was Rs 103 crore (Rs 1.03 billion). In another four years, Maiya hopes to achieve a turnover of Rs 500 crore (Rs 5 billion), and an export income of over Rs 100 crore (Rs 1 billion).
Interestingly, Maiya says only his export to the Gulf was hit by the SARS-threat. It is business as usual with the United States, which accounts for half of his export, and to the United Kingdom, where he has tie-ups with various food companies.
Maiya has several new products up his sleeve. Next to hit the market will be a series of rice dishes, including a khichadi made out of daliya and moong dal for diabetic patients, all priced at Rs 12 each.
He promises that each will provide a substantial meal for one. The range will include rasam rice, sambar rice, zeera rice and even pongal, the popular South Indian rice meal.
Now, the firm has 11 food product ranges: spices, instant mixes, ready-to-eat foods, ready-to-cook gravies, frozen foods, papads, pickles, chips, pastas, snacks and ice creams. Within these ranges, there are a whole lot of dishes.
When Maiya decided to target North India, he realised that he must capture the exact flavour of the foods of that region. This was hard to do, considering that he was a hardcore South Indian himself. So he tied up with Jiggs Kalra, who helped him devise various special recipes.
He also realises that the South and the North have different versions of the same dishes. So he takes effort to cater to all of them. If you buy a ready-to-eat packet of chana masala in Bangalore, it will taste quite different from a packet of the same dish sold in a supermarket in Delhi or Lucknow.
In India, many supermarkets in Bangalore already have special fast food counters of Maiya's dishes, largely as a brand-building exercise.
Even now, all new dishes are first tried out in Maiya's home kitchen. Then, the technique of converting them to a storable food is evolved.