ndian students have emerged the largest contingent of foreign scholars in the United States and are performing exceedingly well in other parts of the world.
But admissions to the best of universities are not easy to get even with good GRE/ GMAT/ SAT scores.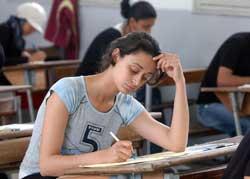 In a three-part series, we detail some essential strategies that may help you reach your dream university.
Portray the best picture
The secret of reaching one's dream university abroad lies in how convincingly you have been able to portray your image before the admissions committee of the respective university.
Understand the application evaluation process
You must understand the parameters that determine admission decisions before you start work on your applications.
In India, the last board or university scores, or rankings of competitive examinations -- like PMT, JEE, NET, GATE, CSIR -- can secure a seat in the graduate, post-graduate and doctoral level studies of different disciplines.
But the system overseas is much different overseas. Applicants are screened by admissions committees after making overall analyses of mandatory test scores and personal attributes of the candidates as reflected through their Letters of Recommendation and Statements of Purpose and Essays.
Why Letters of Recommendation and Statements of Purpose are important
These are the two most important tools of evaluation, as they draw a psychoanalytical sketch of the student. They accord for roughly 50% importance in the decision making.
Good schools @ lower scores
Students with GRE/ GMAT/ SAT scores lower than the university cut-off ranges make it through by presenting themselves very strongly through the Letters of Recommendation and Statements of Purpose and Essays.
What universities to look at?
All universities look at the holistic picture of the candidates rather than their academic records or test scores.
They believe an academically meritorious student does not mean s/he will perform equally well in all fields.
You can excel if you are genuinely interested.
Thus, an average student would perform brilliantly if s/he has keen interest in the subject, whereas an academically meritorious student would fail miserably if the area of study is pursued perforce.
Strengthen the recommendation!
Recommendations form a very important part of judging the applicant's merit.
Thus, choosing the right recommendation candidate can make a lot of difference to your admission chances.
It is not necessary for the Head of Department or your immediate boss to issue it.
The person who can provide the strongest attributes in you, with specific instances to substantiate those recommendations, keeping in mind the studies you intend to pursue, should be chosen for the best impact.
DON'T MISS
Photograph: Getty Images
Rituparna Roy Chowdhury specialises in helping students  frame essays/ SOPs and edits thesis for PhD students, conveying their themes with better communication skills. He is currently working on a short-term project for Kaplan, a Washington Post Company, and a leading Test Preparation Company in the US, to edit content for their simulated tests on SAT, TOEFL, GRE and GMAT. He has worked with The Princeton Review, a leading MNC in the GRE/ GMAT/ SAT training segment. He can be contacted at rituparnaroychowdhury@rediffmail.com