Though the custodian of cricket laws has given the thumbs-up to Kevin Pietersen's switch-hitting, legendary umpire Dickie Bird fears it will create serious confusion in decision-making on the ground.
"The shot will create a lot of problems. How do you deal with lbws and wides? Do you treat the batsman as right-hander or a left-hander?" Bird was quoted as saying in the Daily Telegraph.
The Marylebone Cricket Club on Tuesday made it clear that it will not outlaw Pietersen's extraordinary reverse slog-sweep.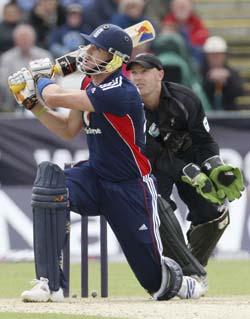 Bird feels that apart from giving the batsman an undue advantage, a 'switch-hit' would require change in the lbw and wide balls rules.
"One way of doing it would be to get rid of the whole idea of leg-side if the batsman switches his stance, the experienced umpire said.
'Tendulkar can play till 2011 WC'
"So the bowler has a reasonable amount of latitude on wides on both sides of the wicket. And it doesn't matter where the ball pitches when you go up for lbw," Bird added.
Pietersen effectively became a left rather than right-handed batsman when executing the shot to hit New Zealand medium-pacer Scott Styris twice for six during an unbeaten century in England's one-day international win at the Riverside on Sunday. His inventive 110 not out, which included two unorthodox left-handed sixes, helped steer England to a 114-run victory.
Photograph: Getty Images