Though Kevin Pietersen had sounded a warning, none were ready for the new bald look he sported during the net session at the Brabourne stadium on Friday.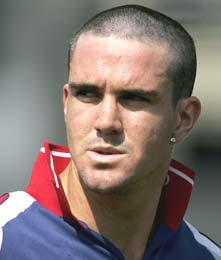 "I had streaked the hair only because I felt like and [Darren] Goughie and I decided to do so. Tomorrow, if feel like shaving my head I'll do so," Pietersen, who had grabbed headlines as much for his colourful hair, said during his press conference on Wednesday.
Now, people are not just giving him a second look, but a third and fourth to make sure it is Pietersen!
Also read: 'I don't care if people think I am a monkey'

---
The CCI President's XI to play the touring Englishmen is adding a new name to the list every day.
After Wasim Jaffer pulled out of the three-day game, beginning Saturday, Karnataka opener Robin Uthappa was called in to fill up the spot.
The warm-up game is an unofficial fixture and England will field all 16 members of their squad.
Though the umpires raised objections over this, England media manager Andrew Walpole confirmed that the understanding was between the BCCI and ECB to let the entire squad take part in the match.
"I got a call the day before yesterday when we were playing the Ranji ODI against Hyderabad," said Uthappa.
"I have faced bowlers of similar height, so I don't think that will be a problem. In fact, it's better playing these bowlers on a track like this since the bounce is even."
Also joining the squad will be Kashmiri pacer Abid Nabi, who gave some anxious moments to team manager Suru Nayak, since he had not reported till Friday morning.
Nabi was busy spearheading Jammu and Kashmir in their Ranji Trophy ODI campaign and played the game against Himachal Pradesh on Thursday.
Those from the Mumbai squad will join the team on Saturday while half the CCI team will participate in the local club tournament match over the weekend.
There is no consensus on the players since CCI president Raj Singh Dungarpur is in Pakistan as manager of the Indian team.
---
The England team has literally been kept under wraps by the ECB management, apart from the daily press conferences.
So much so that they have even avoided talking about the charitable causes the players are involved in.
On Friday, Andrew Flintoff and Shaun Udal were involved in an exercise with the NGO 'Magic Bus', which caters to the requirements of the underprivileged children.