Andrew Symonds set a world record in the Galle Test between Sri Lanka and Australia that almost went unnoticed from the eagle eyes of cricket statisticians the world over. The Aussie became the 388th player to don the 'baggy' green cap for Australia in Tests.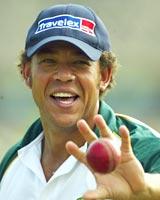 More significantly, he did so after playing 94 One-Day Internationals. Symonds now holds the world record of making a Test debut after appearing in 94 ODIs.
Incidentally, the previous record was also held by an Australian. Adam Gilchrist had appeared in 76 ODI matches before making his debut in Test cricket.
The following table lists players with most ODI appearances before Test debut:
| | | | |
| --- | --- | --- | --- |
| ODIs | Player (Country) | ODI Debut | Test Debut |
| 94 | A Symonds (Aus) | v Pak, Lahore - 1998 | v SL, Galle - 2004 |
| 76 | AC Gilchrist (Aus) | v SA, Faridabad - 1996 | v Pak, Brisbane - 1999 |
| 73 | Yuvraj Singh (Ind) | v Ken, Nairobi Gym - 2000 | v NZ, Mohali - 2003 |
| 66 | Shahid Afridi (Pak) | v Ken, Nairobi Aga - 1996 | v Aus, Karachi - 1998 |
| 60 | RR Singh (Ind) | v WI, Port-of-Spain - 1989 | v Zim, Harare - 1998 |
| 55 | GR Larsen (NZ) | v Ind, Dunedin - 1990 | v Eng, Nottingham - 1994 |
| 48 | BB McCullum | v Aus, Sydney - 2002 | v SA, Hamilton - 2004 |
| 47 | UDU Chandana (SL) | v Aus, Sharjah - 1994 | v Pak, Dhaka - 1999 |
| 45 | SB Styris (NZ) | v Ind, Rajkot - 1999 | v WI, St George's - 2002 |
| 42 | PD Collingwood (Eng) | v Pak, Birmingham - 2001 | v SL, Galle - 2003 |