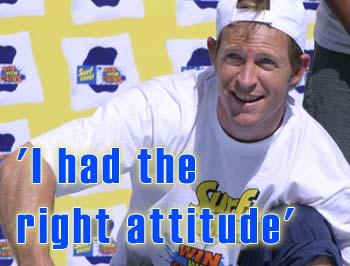 Jonty Rhodes revived the art of fielding in modern day cricket. Fielding was considered compulsory practice, something that had to be done after every session of batting or fielding, but Rhodes and the South African team changed all that.
Who can forget his unbelievable run-out of Inzamam-ul-Haq in the 1992 World Cup. It brought him instant stardom and fame, and made him the focus of every batsman's eyes.
Jonty was not only a livewire on the field, but a brilliant batsman as well. He averaged 35 in both forms of the game and was an instrumental figure as South Africa reached the pinnacle of world cricket under Hansie Cronje.
He scored 2532 runs in 52 Tests, until he gave it up in 2000 to concentrate on One-Day Internationals.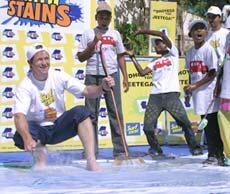 He played the last of his 245 ODIs in the 2003 World Cup, after scoring 5935 runs, inclusive of two centuries and 33 half-centuries.
On a fund-raising visit to Mumbai, to help 'Magic Bus', a non-governmental organisation that works for the betterment of street children, Rhodes fielded several questions on various issues with aplomb.
On the black empowerment policy in South African cricket.
We in South Africa are a big, unique society. We have the young white members, and one I grew up as, who were very privileged without even knowing what is even going on in other parts of the country. To compare us with Pakistan, Sri Lanka or Australia is impossible. We have very different policies in place. The key for me is school cricket, whether it is the young kids, 10,13 or 14; that's when they build the skills.
Whether the selection policy turns white players away from the game.
I think in any environment you can keep things as an obstacle or as an opportunity. In South Africa the opportunity for getting young players, white or non-white, again depends on your attitude. That's what I did in my cricket career; I wasn't the most talented cricketer but I certainly had the right attitude and was prepared to work hard and keep things as opportunities rather than obstacles. It is quite easy to blame the system but you have to be prepared to work hard.
On the recent loss to India in the Test series.
When you come to India you have to be very well-prepared. I don't think one warm-up game was enough. The same thing happened in Sri Lanka, where the team had one practice game and went straight into the Test series. They have a very inexperienced team. Only two players, Jacques Kallis and Shaun Pollock, had toured India before. The key from now is that the team that they have got is a very good team; the selectors must not discard them away. Even in defeat you learn something, you learn from your mistakes and you learn from your victories.
Whether he will take up coaching in near future.
I had been offered a stint at the National Cricket Academy in Bangalore, but I don't want to coach right now. I just want to take a break from cricket. I think if I go back to the game, I am going miss it too much and want to go back and play. I don't think I'll make a good coach; I don't have the patience.
On his contribution to raising the standard of fielding.
I am not too sure there was too much focus on fielding. I don't think I am responsible for changing the standards of fielding, but some people enjoyed watching what I did. The importance on fielding has increased, especially in one-day cricket, where teams are evenly matched and two or three runs can make the difference. It is not only about having your best batsman or your best bowler; fielding is also important. We had to think of a lot of things, focus was where can we save runs, areas where you can reduce our errors and maximize your focus.
We as SA cricketers had no experience at the international level in 1992 but we were very fit and all of us were good fielders. So I think that was the difference, it was the team focus and not just my individual thing.
On whether a team's morale is manifest in the fielding.
We were often commented upon for our team spirit. And I think the key here was how much we helped each other succeed. You making an effort on Allan Donald's behalf, he appreciates that. It is a great indication that the team is putting for each other and the team goals as opposed to individual goals.
On his best day on the field (five catches against the West Indies at the Brabourne stadium, Mumbai in 1995).
Every single day was a good day, whether we won or not, whether I dropped catches or not. The main thing of playing there in Mumbai was the people in the foreign land chanting my name, about 20-30,000 people. As a cricket player you don't often go to a foreign country and get so many people clap for you. So that was a special feeling, and certainly one of my better days on the field.
On Graeme Smith's captaincy.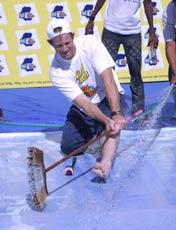 I think Graeme Smith is a very young captain. I think he has the passion, the aggression and the cricket brain to go a very long way. But when you think how many cricket players have gone to captain for 10 years, the amount of cricket that is being played, the amount of pressure that will be put on him on the field and off the field, as a captain Smith should have been given a year or two, not to develop as a cricketer -- I think he is a fine young cricketer already -- but just to make sure he has a long career. As a captain you can't actually get away from the pressure; whereas the players can leave it behind at the ground, the captain has to carry it all round.
On Mark Boucher.
I think one of the characteristics that have helped him in his career is the fight. He is one of the guys who delivers in difficult circumstances and conditions. On our last tour to India he had to come in couple of occasions when the team needed 30-40 runs to win the match; he was certainly the man for the job. He is a fighter. And he is only a young man; he started pretty early. I spoke to him after he was dropped and he said he is keen to get back into the team.
On his fielding overshadowing the batting feats.
People often ask me, 'Aren't you sad that you'll be remembered more for your fielding than your batting?' But, to be honest, my average was pretty average. The team was more important than my average and, hopefully, that came through. It is wonderful to be recognized on the field, and if it wasn't for that, I would've had a cricket career and no one would have known who the heck Jonty Rhodes was. So I would give 8.5 on 10 for my fielding and 7 for my batting, mainly because I was a busy player than a technically correct batsman.
Whether teams should play more Test cricket.
What the Indian cricket team has to be careful of is they fill up the gaps with one-day tournaments. I understand it's more lucrative for the board, it gets television coverage and gets big the crowd. They have to think about the players' longevity also. People say why do the guys get burnt out, they are paid so well and it's their job. But it is the mental fatigue more than anything else.
On the forthcoming England tour to South Africa.
England is a well-balanced team. They have a good pace attack, good spinner in Ashley Giles and a good batting line-up. They have a good leadership in Michael Vaughan and Duncan Fletcher. It will be a keen contest.
PHOTOGRAPHS: Jewella C Miranda
DESIGN: Imran Shaikh